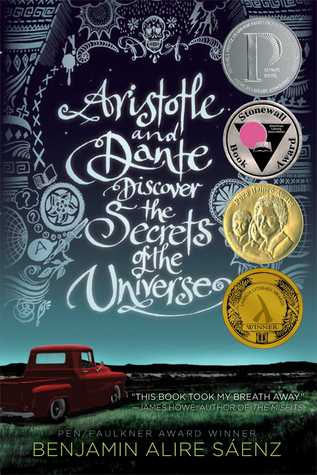 Title: Aristotle and Dante Discover the Secrets of the Universe
Author: Benjamin Alire Saenz
Genre: glbt, romance, contemporary, realistic fiction, historical fiction
Format: Paperback
Pages: 359
Publisher: Simon & Schuster Books for Young Readers
Published:
April 1st 2014
Source: Library
Description:
Dante can swim. Ari can't. Dante is articulate and self-assured. Ari has a hard time with words and suffers from self-doubt. Dante gets lost in poetry and art. Ari gets lost in thoughts of his older brother who is in prison. Dante is fair skinned. Ari's features are much darker. It seems that a boy like Dante, with his open and unique perspective on life, would be the last person to break down the walls that Ari has built around himself.
But against all odds, when Ari and Dante meet, they develop a special bond that will teach them the most important truths of their lives, and help define the people they want to be. But there are big hurdles in their way, and only by believing in each other―and the power of their friendship―can Ari and Dante emerge stronger on the other side.
Review: I don't know how to review this book without talking about spoilers so here is a short crappy version. I love the characters. They are so real and the problems they had were real to which makes the book amazing but I didn't like how the characters repeated each other. I love the writing. Its very Quotable. I recommend it. If you have any doubts just give it a try.
Quotes:
"I wanted to tell them that I'd never had a friend, not ever, not a real one. Until Dante. I wanted to tell them that I never knew that people like Dante existed in the world, people who looked at the stars, and knew the mysteries of water, and knew enough to know that birds belonged to the heavens and weren't meant to be shot down from their graceful flights by mean and stupid boys. I wanted to tell them that he had changed my life and that I would never be the same, not ever. And that somehow it felt like it was Dante who had saved my life and not the other way around. I wanted to tell them that he was the first human being aside from my mother who had ever made me want to talk about the things that scared me. I wanted to tell them so many things and yet I didn't have the words. So I just stupidly repeated myself. "Dante's my friend."

(I wish I had a friend like Dante)

"I had a feeling there was something wrong with me. I guess I was a mystery even to myself."

"Senior year. And then life. Maybe that's the way it worked. High school was just a prologue to the real novel. Everybody got to write you -- but when you graduated, you got to write yourself. At graduation you got to collect your teacher's pens and your parents' pens and you got your own pen. And you could do all the writing. Yeah. Wouldn't that be sweet?"

"What ever happened to reading a book because you liked it?"

"But I'm not good at making friends. I'm okay with that." (I can relate with this)
4 out of 5 Stars