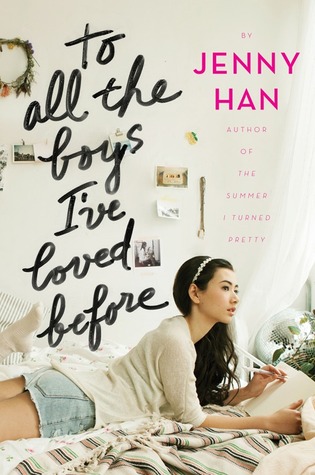 Title: To All the Boys I've Loved Before
Author: Jenny Han
Genre: Contemporary, Realistic Fiction, Romance
Format: Hardcover
Pages: 368
Publisher: Simon & Schuster Books for Young Readers
Published: April. 15, 2014
Source: Library
Description: What if all the crushes you ever had found out how you felt about them... all at once?

Lara Jean Song keeps her love letters in a hatbox her mother gave her. They aren't love letters that anyone else wrote for her; these are ones she's written. One for every boy she's ever loved—five in all. When she writes, she pours out her heart and soul and says all the things she would never say in real life, because her letters are for her eyes only. Until the day her secret letters are mailed, and suddenly, Lara Jean's love life goes from imaginary to out of control.
My Review: Cute and funny. It's not just about the boys, it's also about her family and how close they are. Her older sister, Margot goes off to college leaving Lara Jean with the reasponsabilities of taking care of the house and family. This book had me laughing. Lara Jean reactions towards stuff was funny and believe able. There are also some serious moments too. She puts herself in this predicament and it blows up in her face. I loved the writing, it was real and perfect. I didn't like how it ended, I NEED MORE. I want to know what happens with Lara Jean and xx or the other boy. (Sorry if you don't understand this, I don't want to spoil it)
Likes:
Kitty the younger sister was the best. She's smart and knows what she wants. She has more of a social life then Lara Jean and she's only 9. She even has a fashion sense.
Dislike:
Chris, Lara Jean friend. She seems reckless. She never hangs out with Lara Jean and they don't seem to have a lot in common. I know they been friends since they was kids but I didn't see any friendship there. But she was hardly present.
Genevieve. She was friends with Lara Jean as kids but they grew apart. Also Chris's cousin. She is mean. She is the girl who you would call a bitch.
Quotes:
"It's a lot of responsibility to hold a person's heart in your hands"
"It doesn't matter that they're broken up. He was hers first, which means he's hers always."
5 out of 5 stars