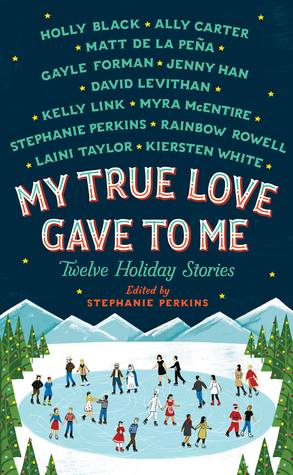 Author:
Edited by Stephanie Perkins
Genre:
Romance, Contemporary, Short Stories, Holiday
Publisher:
St. Martin's Press
Published:
October 14, 2014
Description:
If you love holiday stories, holiday movies, made-for-TV-holiday specials, holiday episodes of your favorite sitcoms and, especially, if you love holiday anthologies, you're going to fall in love with MY TRUE LOVE GAVE TO ME: TWELVE HOLIDAY STORIES by twelve bestselling young adult writers, edited by international bestselling author Stephanie Perkins.
Review:
I haven't read any books from many of the authors in this book and reading a book with so many authors felt weird. Before I got into the stories they was already ove. I really enjoyed the stories and I wanted more. I only wish some of them was longer.
There was only two I didn't like.
Midnight by Rainbow Rowell
-
3 stars
The Lady and the Fox by Kelly Link
-
1 stars
(I didn't understand this story, I was confused)
Angels in the Snow by Matt de la pena
-
4 stars
Polaris is where you'll find me by Jenny Han*
-
4 stars (OMG THAT ENDING!!, THIS NEEDS TO BE LONGER and I loved it was a human asian girl living in the noth pole, like the movie Elf where Santa raises a human boy.)
It's A Yuletide Miracle, Charlie Brown by Stephanie Perkins*
-
5 stars (I love Stephanie Perkins. She really knows how to write lovable characters.)
Your Temporary Santa by David Levithan*
-
2 stars (I love David Levithan but this was disappointing)
Krampuslauf by Holly Black
-
3 stars
What the hell have you done, Sophie Roth by Gayle Forman
-
3 stars
Beer Buckets and Baby Jesus by Myra McEntire
-
4 stars
Welcome to Chirstmas, CA by Kristen White
-
3.5 stars
Stars of Bethlehem by Ally Carter
-
4.5
The Girl Who Woke The Dreamer by Laini Taylor*
-
4 stars
* = authors I read before